B & G Sports
Company, Inc
was founded in 1988 to serve the greater Waterbury, CT community with high quality sports team uniforms and equipment at a fair price with an on time delivery to local schools and sports organizations.
In 1995 B & G Sports acquired Rainbow Engraving of Waterbury, CT and moved to their East Main St location. With this addition we are now able to offer our customers a "start to finish" service of uniforms, equipment and season ending trophies and medals.
Over the years our company has grown to service not only the sports community, but also civic organizations such as the Elks, Lions Club, Exchange Club and many others. We also have a large number of small business clients, such as plumbers, electricians, painters, etc., that we provide embroidered or silk screened items for their employees or customers. We are a major supplier to many local charities for their golf tournaments, including signage, clothing, give-a-ways, golf flags, sponsor signage, etc.
B & G Sports Company In Waterbury Merges With ColorGraphix LLC in Oxford
Our in house embroidery provides fast and reliable service for ALL of your embroidery needs, from the simple name to the most complex custom logos.
We can silk screen your logo, school mascot, family reunion shirts or anything that needs printing from simple one color prints to full color direct to garment printing.
Our awards department features all of the most modern techniques, including laser engraving, sublimation, rotary engraving, etc. to engrave or imprint almost any item.
We are distributors for all the major trophy manufacturers including, Marco, PDU, JDS, Freeman, Tropar and others. Whether you need 1 item or 1,000 we are happy to assist you in your selection.
Need an online store for fund raising, spirit wear or employee clothing? B & G can design and launch any type of online store to meet your needs.
B & G Sports has grown over the past 20 plus years into a full service engraver, trophy supplier, engraver of plaques and medals, a supplier of a vast array of sportswear including t-shirts, hoodies, polo shirts, hats, jackets, sports uniforms (baseball, basketball, soccer) and much more.
Our customer base has grown to include not only Connecticut, but many other states along the eastern seaboard from Maine to Florida and as far west as New Mexico.
Let the experts at B & G Sports service you for your next item of distinction, be it embroidered, silk screened, engraved or printed we are here to see your project through from start to the completion you were expecting.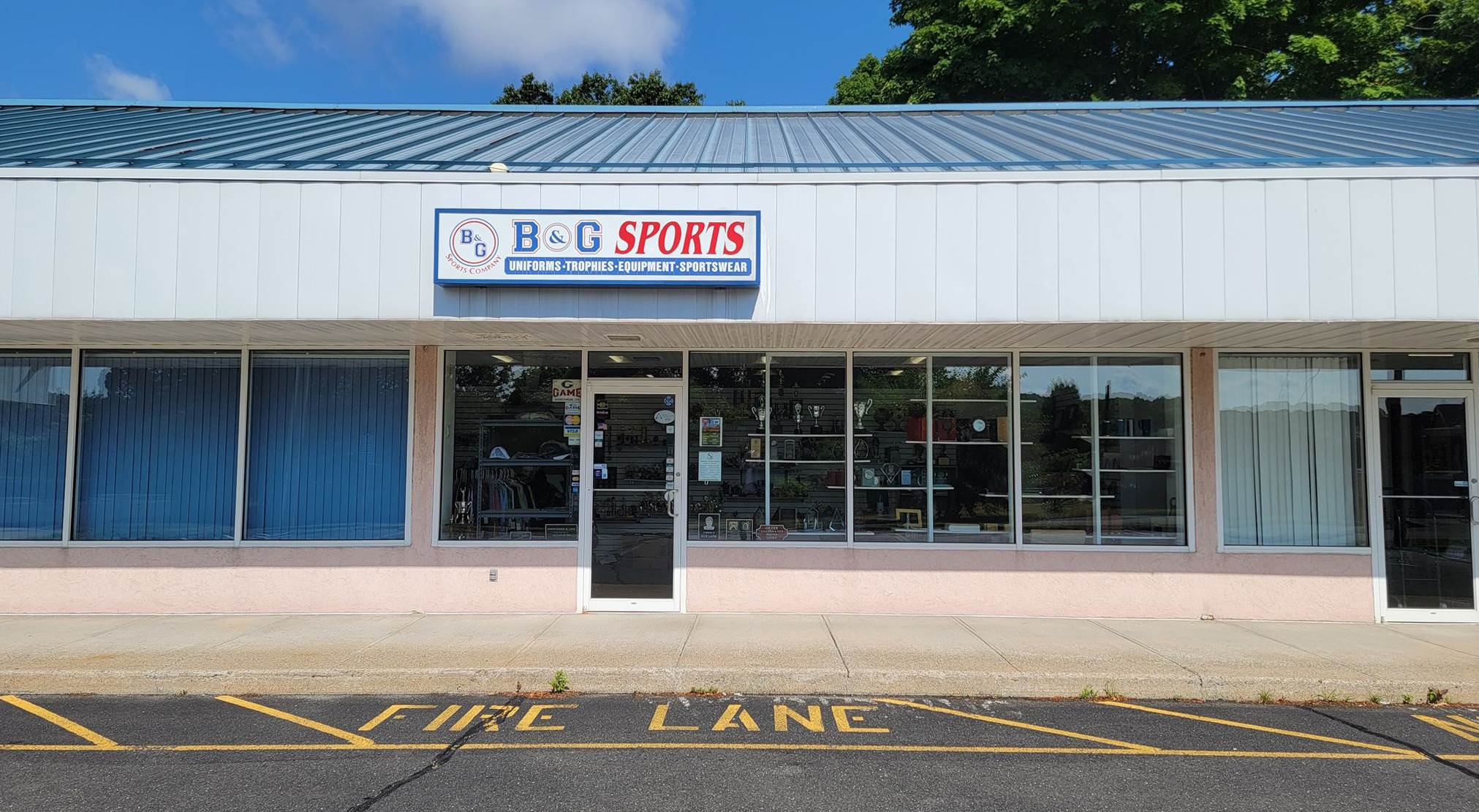 B&G Sports Company offers custom apparel and products such as T-shirts, hats, teamwear, coach polos, hoodies, thermals, jackets, bags and much more
We carry a complete line of products from the top manufacturers in the industry to meet all of your awards and recognition needs; figures, medals, marble, columns, plaques, giftware, hardware and so much more!
B & G Sports Provides a wide variety of sporting goods to coaches, teams, equipment managers, schools and athletes of all ages.
We offer the best in safety and quality at competitive prices.
A great uniform is vital for any team sport, but the game isn't on until your team has all of the essentials. In just a few clicks, you can customize bags, compression gear, caps & towels, and stock up on team accessories like gloves, belts, socks & more!
I am always quickly acknowledged when I walk through the door with a very friendly and courteous personality. After explaining in detail how he can help us with our particular needs he took the time to explain pricing as well. Everything was easy and they're willing to allow us to try it on the shirts or sweaters to make sure that the fittings are right. There was a variety to choose from and every time we got an order it was exactly as we needed. If there was ever a confusion they were quick and easy to clear it up. I highly recommend getting any uniform or trophy needs here.
B&G came recommended to me through a friend when I asked for some help with a very special project. Not only did they do impeccable work in a very timely fashion but the prices could not compare! Very thankful and appreciative of their service!
The absolute best place in the state to get, trophies, plaques and uniforms.